Automatic Titrators
GT-200 general-purpose automated Potentiometric Titrator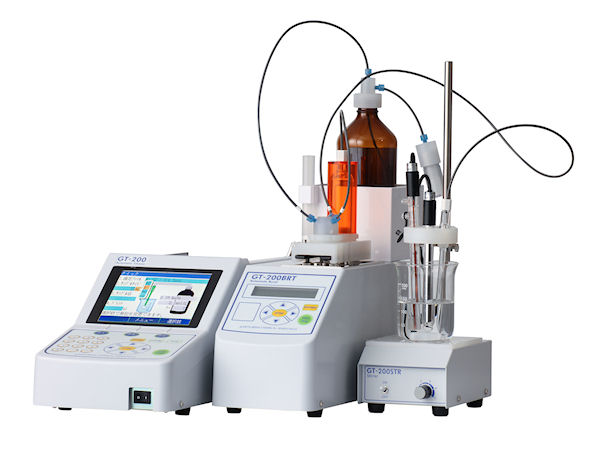 The versatile GT-200 supports multiple titration configurations in a compact, user-friendly unit, featuring Quick Mode for instant startup along with a range of automation and solvent extraction options.
User-friendly burette with dedicated keypad and readout for easy reagent changeover.
Burette supports up to ten units.
Large LCD screen renders titration curves with improved clarity.
Quick Screen presents convenient summary of all relevant data for routine procedures to allow instant start-up.
Computer-like operation with standard mouse device (also supports wireless mouse devices).
Supports standard USB memory devices for downloading measurement data (including raw data and titration charts), saving data in text format and backing up measurement conditions and settings.
Supports auto sampler unit accommodating up to 24 samples. The compact auto sample changer takes up no more space than a beaker plus the samples themselves and is available in a choice of turntable configurations, holding a maximum of 24 samples for multi-sample operations. Simply replace the beaker to enable pre-step setting for up to three rotations.
Titration Viewer TV-200 application enables data management on a standard computer via USB cable. Also available via USB memory.
Auto Sample Changer GT-200SC
Type1: 12 pos, 100ml beaker
Type2: 12 pos, 100/200ml beaker
Type3: 24 pos, 100/200ml beaker
Printer
Thermal Printer
Impact Printer
Solvent Dispenser GT-200SD
Syringe Buret KF-200
Photometric Detector GT-LDⅡ
Power Box
etc.
---