Combustion Ion Chromatography (C-IC)
AQF-2100V Combustion ion chromatography(C-IC) Vertical Furnace Model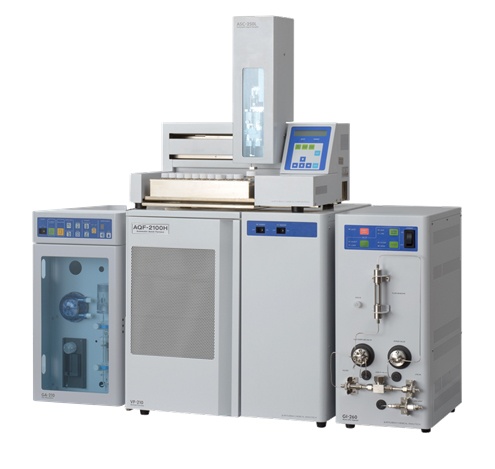 Optimal combustion unit for determination of sulphur and halogens (fluorine, chlorine, bromine, and iodine) in Liquid and Gas samples.
Main Futures
●FAST
No boat program required, and fully automatic sample injection of Liquid/LPG/Gas.

●ACCURATE
Much lower system blank, since direct sample injection to the heater furnace.
Multiple Injection can be used to combust large amount of liquid samples.

●EASY
No combustion program is required.
By injecting a liquid sample into the heater furnace at safety,anymore can operate easily and safety

●Multi element measurement(F,Cl,Br and S) by one combustion

●Small foot print

Official testing methods
ASTM: D7359, D7994, D8150 UOP: 991, 1001
Improved analysis sensitivity
Featuring low-blank gas control unit for exceptionally low gas blank value.
High-purity quartz combustion tube enables precision analysis of trace volumes.
Hydro pyrolysis system
The humidity regulation and combustion system maintains constant humidity at high volumes for improved fluorine, concentrated chlorine and bromine analysis accuracy.
Constant volume control

The high-precision level sensor maintains constant volume for improved analysis accuracy.
The constant volume regulator is compatible with a wide range of sample types.
(NB: Patent pending)
Fully automated operation

Using the optional external fluid selector together with the sample changer enables fully automated measurement of calibration curves and combustion conditions.
Low maintenance

The front door on the combustion unit provides direct access to the combustion tubes inside the electric oven for removal and replacement.
---